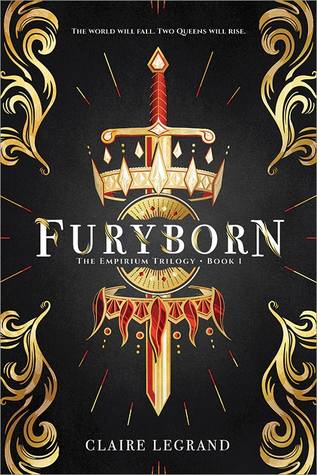 Title: Furyborn
Author: Claire Legrand
Pages: 512
Series? Yes
As you can tell from the title, I liked Furyborn. In fact, I really liked Furyborn. It was one of my most anticipated releases and one of the most hyped fantasies of 2018 and it definitely lived up to the hype. Though this book has been getting a mixed reaction, I do think that this book's worth a shot. Here are, in my very humble opinion, 7 reasons (because in this world's magic system, there are 7 elements) why you should read this book.
1. It's unique
Furyborn follow 2 badass ladies, Rielle and Eliana, who live 1000 years apart, who are both a part of an ancient prophecy in their land about 2 queens, the Blood Queen and the Sun Queen, both of whom can control all 7 elements. As their titles indicate, one will ruin their world and one who will save it. It takes familiar tropes and turns them on their head. It also has elemental magic and saints, which are some of my bookish buzzwords and I know interests a lot of other people too.
2. Fierce ladies
We all know and love fierce ladies, both in real life and in books. Both Rielle and Eliana are badass, dangerous and powerful and know how to use their power. They are brave and courageous and will do anything to protect their loved ones. However, my main complaint with these characters is that Eliana is a carbon copy of Celaena Sardothien, which gets tired out pretty easily but even then she is developed into her own character. And honestly? Rielle's character is even better.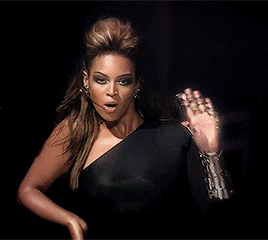 3. The addictiveness and non-stop action
I, for the life of me, cannot remember the last time that I flew through a 500 page book in 2 days. Though I love so many books, there are very few books (especially fantasy) that can grip me so much and so hard. Like, I flew through 40% of the book in ONE sitting. I literally sat down with my tablet and flew through this. It's such a quick read, which is unsurprising considering the shortness of the chapters. Every time I sat to read this and I had to stop, I'd tell myself, "just one more chapter", and would keep reading until I really had to call it quits. Furyborn starts off with a bang from the get-go and the action doesn't cease from there. And the writing really adds to that too – Legrand's writing is so well-suited to these action sequences and knows how to get her readers really invested.
4. Morally grey characters
Like so many of you lovely humans, I love and adore morally grey characters. They make things interesting and balance out characters such as the special, chosen snowflake or the pure hero. Even though this prophecy has a very clear cut idea of the Blood Queen and the Sun Queen, both of our main characters do not really fit that mold. Legrand fleshes out the characters to be more than what they are prophesized to be. Both of these ladies have (very) questionable morals and teeter the line between good and evil and personally? I was so here for it.
5. Fantastic female friendships
You know, writing that phrase made me so happy, because how often do we get female friendships, let alone good ones in fantasy? I've rarely read female friendships done so well, and we need way more of them, and I'm hoping that Furyborn really sets the stage for them. These female friendships aren't catty (!!), and we have ladies unconditionally standing up for each other, supporting each other, treating each other like family and being badass together.
6. The cover
I had to – look at it, I mean …
My eyeballs have been blessed. That beauty? The gold and the red and the black complement each other so so well …. as an art student and art enthusiast, I can safely say this is definitely one of the best covers of 2018, and one of my favourite covers ever. I need need NEED a physical copy, and you can bet that I'm going to get my hands on this beauty very very soon.
7. Side Characters
Furyborn has some of my favourite side characters – they were all so unique and wonderful and I loved them! (well most of them) When I was reading reviews for this on Goodreads, even the reviews leaning on the negative spectrum for this one really liked the side characters. We have Audric, Rielle's love interest and the crown prince, who is a so sweet and precious, Navi, a kind, fantastic princess, Remy, Eliana's little brother who is a small cinnamon roll who I will protect until the end of my days and Ludivine, a foreign princess who Audric is betrothed to and who is just a wonderful person as a whole and is one of my favourites. These were just some of my favorites, but I can ensure you that I at least liked the side characters here.
Final rating:
What about you? Have you read Furyborn? Is it on your tbr? Has my review interested you to read this? Have you read anything else by Claire Legrand? Let me know down below.
Love,
Taasia