Hi friends! Here's another tag, quick-to-read post because ya girl was tagged by the wonderful May @ My 1st Chapter, and got around to publishing it, uh, 1 month later. (But seriously, thanks for the tag, May!) She is the most talented wonderful human ever, please do yourself a favor and bless your screens by checking her out ❤️ Ok, onto the tag, and hope you enjoy it!
AUTHOR YOU'VE READ THE MOST BOOKS FROM
According to Goodreads because ya girl wants to avoid maths as much as she can, my most read author is Cassandra Clare. No one is surprised.
BEST SEQUEL EVER
There are so many, but my favorites include Catching Fire, Crooked Kingdom, Clockwork Princess, Harry Potter and the Goblet of Fire, and Harry Potter and the Deathly Hallows. They're all fantastic sequels in their own way and ruined me and really caught my attention.
CURRENTLY READING
I've literally had to change this answer like 6 times because this post is going up so late what is my life coming to.
But I'm actually currently reading a few books because I'm a huge mood reader and I like to make my life more difficult. As for my active physical read, I'm reading Wildcard by Marie Lu, which I am enjoying but am still really nervous about since there are such mixed reviews and re-listening to Lady Midnight in preparation for the release of Queen of Air and Darkness in December.
DRINK OF CHOICE WHILE READING
I actually don't really have a drink of choice while reading, which is not common at all for me. I rarely drink tea and *gasp* don't drink coffee at all! Shocker. Well, I guess we learn new things every day. Like, sometimes I drink water or something cold (if it's a hot day, it's Singapore we're talking about) and just chill with my current read.
E-READER OR PHYSICAL BOOKS
Honestly, both, but if I had to choose, I would go with a physical book. Even though e-readers make my reading life so much easier and helped me get through so many books, I just love the feel of a traditional book and the whole experience.
GLAD YOU GAVE THIS BOOK A CHANCE
For this one, I'll have to say An Unwanted Guest and All the Beautiful Strangers, both of which came with recommendations from BooksandLala who I talk about all the time I really need to stop now. Without her recs, I would never have read these books on my own, and I really thought they were interesting and they were right up my alley. Additionally, I gave them both a solid 4 stars, so I did like them and found them very enjoyable.
HIDDEN GEM BOOK
My top 3 favourite reads this year are the Seven Husbands of Evelyn Hugo, American Panda and Always Never Yours. While I feel like the first two have gotten quite a bit of hype (ESPECIALLY Evelyn Hugo), Always Never Yours kinda missed out on a bit of it. Yes, it's not totally underrated, but it is absolutely fantastic. I loved the incorporation of high school theatre, Shakespeare, a rom-com feel, an interracial relationship (uwu), Megan's character development and how she feels she is the Rosaline in her story and just … so many things about it. I'm ridiculously hyped for If I'm Being Honest and I can't wait!
IMPORTANT MOMENT IN YOUR READING LIFE
Harry Potter is where it all started for me. I was always an avid reader as a child, and I picked them up based on everyone's recommendation. There was no turning back after that.
Also ignore the Cursed Child on that image – that book is dead to me.
JUST FINISHED
I also recently finished If We Were Villains by M.L Rio and I still haven't decided on a rating because I don't know what to rate it and I've having a bit of an existential crisis but it's fine.
KINDS OF BOOKS I WON'T READ
Hey, I'm trying to expand my reading horizons by reading lots of things (including classics, which are … meh) but genres I absolutely will not read are erotica and horror. I just can't, but I'm happy for those who like them, it's definitely not for me.
LONGEST BOOK YOU'VE READ
I looked through my Goodreads shelf and I found that the longest book that I've ever read is Harry Potter and the Order of the Phoenix! This was actually an TTT topic and everyone had this on their list, and I am not surprised at all. This had some good stuff though, and I'm proud of young me for making it through all 870 pages of this on eBook.
MAJOR BOOK HANGOVER BECAUSE OF
For me, I fall into slumps way more than book hangovers, so I honestly can't really remember one? Maybe I had a bit of a hangover after reading The Seven Husbands of Evelyn Hugo, which is my favourite book of the year (which I read in January lmao).
NUMBER OF BOOKCASES YOU OWN
I actually just got 2 white Billy Bookshelves that I like the look of! I've organized my books and am planning to publish a bookshelf organization post and perhaps a mini bookshelf tour in January, but we'll see, I suppose?
ONE BOOK YOU HAVE READ MULTIPLE TIMES
I have read many books multiple times, so …
PREFERRED PLACE TO READ
My go-to place to read is
QUOTE THAT INSPIRES YOU/GIVE YOU ALL THE FEELS FROM A BOOK YOU HAVE READ
Honestly, everything in the Hate U Give (I am so hyped to see the movie) but here's a great one:
Your voices matter, your dreams matter, your lives matter. Be the roses that grow in the concrete.
Book Riot has a great list of the Hate U Give quotes that should be in the movie (1000% agree with every single one)
READING REGRET
For me like book buying regret, both ways. What I mean by that is that I have so many regrets for impulse buying books that I'm very mediocrely interested in, as well as books I wish I bought.
SERIES YOU STARTED AND NEED TO FINISH
Hypothetically, I should finish the series on my 2018 TBR, but I'm probably not.
Whoops.
THREE OF YOUR ALL-TIME FAVOURITE BOOKS
Tbh whoever created this question can fight me because how are you meant to decide but if I was forced to choose:
Simon vs the Homo Sapiens Agenda
The Hate U Give
Crazy Rich Asians
… All of which I read last year!
UNAPOLOGETIC FANGIRL FOR
I was going to say Peraltiago but wrong place WHOOPS
I am such a Becky Albertalli stan it is RIDICULOUS. She is just such a sweetheart and a genuinely great person and her writing is phenomenal. I have recommended her books to my fellow reader best friends and they've really enjoyed her too so clearly something is right.
VERY EXCITED FOR THIS RELEASE MORE THAN ALL THE OTHERS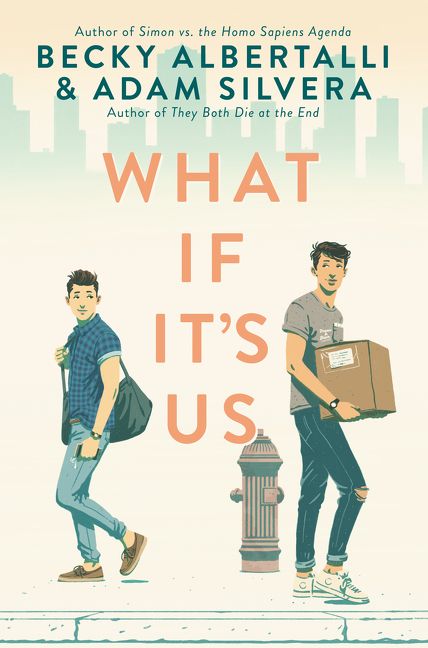 What If It's Us is exactly my type of book, not gonna lie. I love love love Becky and her books and am ok with Adam Silvera but there's Harry Potter and DEH and Hamilton sign me the hell up where's the sign-up sheet ok bye. I'm really hoping to buddy read it with one of my best friends IRL who is also super hyped for this one.
Also, I got spoiled for a part of the ending by a Scribd user who wrote an audio review for it. who did not tag or say that there were spoilers? Inconsiderate much??
Sorry, I'm just so annoyed right now.
But please tag your spoilers oh my god.
On a lighter note, can someone buy me it for my birthday (which has already passed, but ya girl loves belated birthday presents 😉)
Jokes.
WORST BOOKISH HABIT
I am literally terrible at looking after my books and I tend to crinkle the pages when I read, but I suppose it's a sign of a well-loved book? You tell me?
X MARKS THE SPOT: START AT THE TOP LEFT OF YOUR SHELF AND PICK UP THE 27TH BOOK
27 used to be my lucky number for some reason, actually. This is so much easier to do after I arranged my new bookshelves. Ok, my tangent's over. My 27th book is actually The Upside of Unrequited, which is by Becky Albertalli. While I did enjoy this one, it's definitely my least favorite one by her. But it does have one of the most interesting first lines so points for that?
YOUR LATEST BOOK PURCHASE
The last book I actually purchased (or added to my book collection) is in this giant-ass haul (which you can find here). But the last book that I actually added to my book collection is Wildcard (bought by a dear friend, if you're reading it, you know who you are 😉) which as I previously said, am currently reading! I really, really want to love this one.
ZZZ-SNATCHER BOOK (LAST BOOK THAT KEPT YOU UP WAY TOO LATE)
I generally don't stay up very late to read books (Brooklyn 99, on the other hand …) but the last book that kept me up at 1am, anxiously flipping the pages is Sadie by Courtney Summers. While it wasn't a 5 star read, the juxtaposition of the two plots was so interesting and the story was just so so good!
If you want to do this tag, go ahead and consider yourself tagged! This was a long one but kind of fun, not going to lie? See you all soon.