Though I'm a HUGE mood reader, I do like participating in reading challenges, and not gonna lie, my lil nerd self loves recording all the books I read for that! However, I want to choose the challenges I pick carefully since I don't want to abandon it mid-way through, which I did with one or two of these in 2018. I am going to be doing the Goodreads Reading Challenge in 2019, but since that widget isn't set yet, I will link my Goodreads for reference. I'm going to aim for 100 books, but might aim for higher depending on my schedule? We'll see.
I also need more Goodreads friends oof.
Audiobook Challenge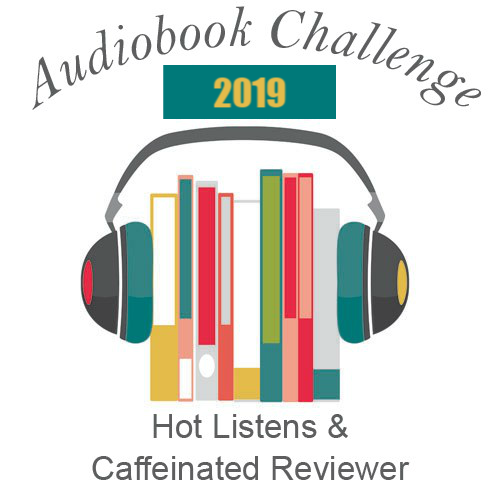 I love audiobooks (and yes, they do count as reading, fight me), and my audiobook reading has really gone up. In all honesty, I'm mostly using this challenge to track the audiobooks I will listen to in 2019, rather than to push myself to listen to more audiobooks, if that makes sense? I'm not going to set a number for this because I have no idea on what is and isn't realistic, and I'm just going to make it really chill.
This challenge is hosted by Kimberley @ The Caffeinated Book Reviewer and Hot Listens, click this link to find out more about the challenge.
New Releases Challenge
A huge bulk of what I read is New Releases, and I don't really plan to change that. I did this challenge this year, and I want to do it again. This year, I aim to achieve the pro level, which is 31-60 books. If I achieve that early, I can always aim for the veteran level, which is reading 61-100 new releases. This challenge is hosted by Lexxie and Brandee @ (un) Conventional Bookworms, with all the necessary information included here.
Beat the Backlist

Though my go-tos and much of what I'm reading are new releases, I do want to make space for backlist books. I did this challenge last year, and though I was motivated at first, I stopped tracking it so it didn't really motivate me that much? I do want to be more interactive with the challenge next year and am going to fix my goal for 45 backlist books.
I will also be participating in the optional Hogwarts House Challenge, representing Ravenclaw because how could I not?
Back to the Classics

I need to read Jane Austen and Jane Eyre next year, can someone help keep me accountable for that. I need great classic recommendations so if you guys could give me some of your favorite classics to read, I will be very thankful. I did very well for about the first half of the year and then crashed and burned. I don't think classics are really for me, but I do want to get myself to read more classics, so hopefully, this will work? If it doesn't, I'll just skip it next year. This challenge is quite strict and has a lot of rules, but we'll work with it.
But I'm kind of excited too so there's that.
This challenge is hosted by Karen @ Books and Chocolate, and the appropriate information is here (make sure to read the rules).
#Bookiary2019
This is a new challenge, hosted by Fabia @ Fabiary. I actually tried a book review challenge that I reviewed everything, but I completely crashed and burned. The aim of this reading challenge is to read AND review 52 books, the reviewing aspect will be what I'm focusing on. There are lots of little prizes throughout the year, and it seems really fun!
Library Love Challenge
I really need to use my library more, so the main purpose of this challenge is for me to track the books I'm reading from my library. I'm not sure what is a realistic number for me to set, but I guess I'll try to read as many as I can? This is hosted by Angel @ Angel's Guilty Pleasures, and I'll attach her original post here.

What reading challenges are YOU planning, if at all, participating in 2019? How did your reading challenges go for you in 2018? (if applicable) What books do you recommend that I read for any of these challenges? Be sure to let me know down below.