I, like many other people (some of whom freely admit that, and some of whom who don't, no shade intended), highly enjoy tea and it being spilled, especially when it comes to controversial opinions.
I know that quite a few of you enjoy tea being spilled too – content with people expressing their unpopular opinions are more popular than content where tea isn't there, so I know I'm not the only one, hehe.
I personally love these kinds of posts, so I decided to do this tag even though it's officially dead and quite old, especially in this community's standards.
Let's get into me spilling the tea, hope I can find some solace and come out of the comments section alive.
Yes, I'm switching in between graphics because I'm in a graphics crisis and I'm not sure which one I like more?
A Popular Book or Series You Don't Like
Oooo boy, I know everyone is going to hate me for this. But I don't understand the hype with the Cruel Prince? Yeah, it was enjoyable, and it was solid, but I just don't get it. Jude is a fine main character, with some interesting aspects, but why does everyone love Cardan the way they do? Cardan is just really rude, cruel, and a jerk, in my eyes. I don't even know whether I'll read the Wicked King or not.
What is a popular book or series that everyone seems to hate but you love?
Definitely 99 Days by Katie Cotugno. I went into this book thinking I would hate it, but I ended up enjoying it more than I anticipated. There's a lot of problems, especially with the cheating aspect, which I was quite uncomfortable with myself, but I liked the characters as individuals well enough and found the writing readable.
What is a love triangle in a book or series where the main character ended up with the person you didn't want them to end up with?
I just want to make clear that I hate love triangles, and I just want to roll my eyes whenever I come across one (except for the Infernal Devices one, we stan that.)
Spoilers for the Matched trilogy, but my answer for this is Cassia and Ky (was that his name? I don't even know.) I wanted Cassia and Xander to be together so badly, and I was so salty that it was so obvious that they weren't going to be. I felt like Xander, like many characters "rejected" from the love triangle, if you will, was done so dirty. It was part of why I couldn't finish the Matched Trilogy (along with how boring Reached was, not gonna lie.)
What is a popular book genre you hardly reach for?
Horror for sure. I'm just such a chicken, and I can't handle large amounts of horror at once, I guess? (I did finish Sawkill Girls though, go me.) So no Stephen King, Frankenstein will have to wait, and the Exorcist? Next.
What is a popular or beloved character you do not like?
I know there's other characters better for this answer, that I hate more, but since I can't think of that right now, I'm putting down Jace and Clary from the Mortal Instruments. I did enjoy them somewhat in my first read of the Mortal Instruments, but now they're just so boring, bland and cardboard cut-outs of typical main characters in a 2000s paranormal series. Thank you, next.
me shading clace while simultaneously dodging the clace stans uwu
Who is a popular author that you can't seem to get into?
I cannot, for the life in me, understand the hype around John Green's books. I do like the stuff he does on YouTube, but I tried, you guys. I two-starred the Fault in Our Stars, three-starred Looking for Alaska, and couldn't finish Paper Towns. I'll try Will Grayson, Will Grayson, as it was gifted to me by one of my best friends, and MAYBE (very unlikely) Turtles All the Way Down?? So yeah, the tea.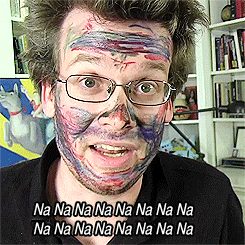 What is a popular book trope you hate seeing?
I talked about my wariness around love triangles, but another trope I dislike more than that? The special snowflake trope. I think the biggest issues I have with it is that 1) it's extremely overdone, 2) it allows this character to be able to get out of any situation, 3) it's very lazy writing. Why do I still read YA SFF, I don't know.
What is a popular book or series you have no interest in reading?
Twilight, the whole saga, the movies, and just anything to do with Twilight. I have absolutely no interest in paranormal romance anymore, this gets very mixed reviews (though it is very famous) and I'd rather not waste my time. I'm not changing my opinion for this one.
What is a movie/TV adaptation you liked more than the book?
Hmmmmm … I'd probably have to say If I Stay – it is one of my favorite books though. I got into this book by watching the movie with some friends and absolutely bawling my eyes out, then proceeding to read the book and love it too. I dunno … I just had such a strong emotional attachment to the film and to Mia's character, I guess? Now I want to rewatch this before school begins (and make myself sad lmao.)
Also, honorable mention to Love, Simon. How could I not. Both the book and the movie are masterpieces, thank you for coming to my TED talk.
Are there any unpopular opinions you agree with here? (Please let me know whether I'm alone or not). Anything here that you disagree with? What are some of YOUR unpopular bookish opinions?
I would love to see more tea being spilled to know.