I love talking about things I want to achieve/read/just do in a certain period of a time, but I also love checking in on how badly I failed I did.
For instance, a lot of people do blog posts on their most anticipated releases, and I haven't found any posts like this, other than a top 10 list that the queen of cake aka Cait @ Paper Fury wrote.
In today's post, I'm going to react to my anticipated releases list and see how I did on it! If I haven't read it yet, I'm probably going to be reading it in January for the #LateAThon hosted by the wonderful Destiny @ Howling Libraries, which you should all join because it focuses on overdue ARCs, books you've had on your TBR for a long time, or leftover anticipated releases and you just should anyway.
I made a whole post about my anticipated releases for January – March of 2018, forgot about April, May, June, and July (wow I'm so professional), and then talked about my anticipated releases for the next month in my monthly wrap-ups.
I also want to apologize in advance for the length of this post (it's about 1500 words right now). I'm going to truly do my best to keep it short, but this is me we're talking about, so.
JANUARY
The Cruel Prince by Holly Black ✔ ★★★☆  If you've been following me for some time, you know that I just don't get the hype with this book, and I'm still torn on whether I should pick up the Wicked King? (Lol probably not).
Everless by Sara Holland ❌ mmmm ok. I'm torn whether I should keep this on my TBR. though I added this for the concept, I saw so many mixed reviews for this one, and I might remove this from my TBR.
Meet Cute edited by Jennifer L. Armentrout ✔ ★★★★☆ (4.25) I honestly really enjoyed this! I feel like I'm kind of the unpopular opinion here since a lot of people three-starred this, but would definitely reread. Also, Jocelyn Davies story? So SO GOOD SKSKSKSK.
Batman: Nightwalker (DC Icons, #2) by Marie Lu ✔ ★★★☆☆ M E H.
Beneath the Sugar Sky (Wayward Children, #3) by Seanan McGuire ★★★★★ ✔ I stan this book and this series so hard, thanks for my life @ Seanan McGuire.
Truly Devious by Maureen Johnson (Truly Devious, #1) ★★★☆☆ ✔ I'm literally so sad and salty about this one – the wasted potential smh.
Wires and Nerve Volume 2 (Wires and Nerve, #2) by Marissa Meyer and Douglas Holgate ✔ ★★★☆☆ (3.5) A fun romp, but felt too safe? I still love Marissa Meyer.
FEBRUARY
American Panda by Gloria Chao ✔ ★★★★★ Oh you foolish child, you had no idea how hard you would fall for this book.
The Defiant by Lesley Livingston ❌ Lol I kind of forgot this existed? I don't really care anymore.
Hamilton and Peggy by L.M Elliott ✔ ★★★☆☆ Ironically, in a book titled after Hamilton and Peggy, Hamilton wasn't there for most of the book.
Blood of a Thousand Stars by Rhoda Belleza ❌ Yay another sequel that I've officially lost interest in.
All Out edited by Saundra Mitchell ✔ ★★★☆☆ (3.5) A really solid anthology, but I wish there was a little more PoC rep sprinkled throughout (as main or side, just more than what we got).
Bygone Badass Broads ★★★★☆ ✔  Mackenzi Lee + Badass Females + 176 pages = a happy GR challenge & an entertained and enlightened me
MARCH
The Case for Jamie by Brittany Cavallaro ❌ I feel like I should read this, and I might?? We'll see?
In Search of Us by Ava Dellaira ❌ I was initially really interested in this, and tried reading the first chapter, but just could not get into this. My interest is waning by the day, so ….
Obsidio (The Illuminae Files, #3) by Amie Kaufman and Jay Kristoff ✔ ★★★★☆ Turns out March isn't a complete fail, this was really fun though.
The Price Guide to the Occult by Leslye Walton ❌ I can't believe that I haven't read this yet?? I need to listen to the audiobook of this, like now.
Tyler Johnson Was Here by Jay Coles ❌ *sighs deeply*
The Astonishing Colour of After by Emily X.R Pan ✔ ★★★★☆ Poignant, important but WAY TOO LONG.
I Have Lost My Way by Gayle Forman ✔ ★★★★☆ (4.5) At least we ended this section on a good note and my feelings being seriously wrecked, never mind, I actually don't like this.
APRIL
Sam and Ilsa's Last Hurrah by Rachel Cohn and David Levithan ❌ LMAO
Love and War (Alex and Eliza, #2) by Melissa de la Cruz ❌ Audiobook, where you at? I probably won't make it otherwise, so.
Son of the Dawn (Ghosts of the Shadow Market, #1) by Cassandra Clare and Sarah Rees Brennan ★★☆☆☆ ✔ N O P E
Stay Sweet by Siobhan Vivian ★★☆☆☆ ✔
Leah on the Offbeat (Creekwood, #2) by Becky Albertalli ★★★★☆ (4.5) ✔ Probably my second favourite Becky book? Unpopular opinion coming through.
MAY
Fatal Throne edited by Candace Flemming ❌ If you asked me why I haven't read it, I won't be able to give you a solid answer.
Royals by Rachel Hawkins ❌ …….
The Way You Make Me Feel by Maurene Goo ✔ ★★★★☆ This is an example of my favourite book genre.
Love and Luck by Jenna Evans Welch ✔ ★★★★☆ This was good, I guess? I can't remember much about this one, to be perfectly honest.
Cast Long Shadows (Ghosts of the Shadow Market, #2) by Cassandra Clare and Maureen Johnson ✔ ★★★★☆ (3.75)  Highlight for my fairly-spoilery thought about this one: Matthew what have you done
Girl Made of Stars by Ashley Herring Blake ✔ ★★★★☆ (4.5) I nearly cried, which is rare. This is truly phenomenal though ahjsksksk
How I Resist edited by Maureen Johnson ✔ ★★★☆☆ (3.5) This was … very American?
From Twinkle, With Love by Sandhya Menon ✔ ★★★☆☆ The truth is, I prefer Dimple.
Furyborn (Empirium, #1) by Claire Legrand ✔ ★★★★☆ (4.5) loOK I know you all generally don't like this book, but the trials had me so invested. We all know I'm trash for that anyway.
Listen to Your Heart by Kasie West ★★★★☆ ✔ So so cute, her later stuff is so good.
Legendary (Caraval, #2) by Stephanie Garber ✔ ★★★☆☆ This book is, um, not legendary as I thought it would be. I'm so sorry it was right there.
JUNE
Save the Date by Morgan Matson ✔ ★★★★☆ (4.5) I. LOVE. THIS. My favourite Morgan Matson book by far
Smoke in the Sun (Flame In The Mist, #2) by Renee Ahdieh ❌ Why is half of my unread anticipated books are sequels I haven't read? We all know I have a serious problem.
A Reaper at the Gates (An Ember in the Ashes, #3) by Sabaa Tahir ✔ ★★★★☆ (4.5) I'm incredibly salty that I have to wait 2 years for the final book in this series. Rude 😭
Every Exquisite Thing (Ghosts of the Shadow Market, #3) by Cassandra Clare and Maureen Johnson ✔ ★★★★☆ Anna Lightwood is an icon. Thank you for coming to my TED talk.
My Plain Jane by Cynthia Hand, Jodi Meadows and Brodi Ashton ❌  I WILL (I'm 90% sure) read this someday – I have this on my owned TBR shelf, for goodness sake. But should I read Jane Eyre before this one? I need advice.
A Thousand Beginnings and Endings edited by Ellen Oh and Elsie Chapman ✔ ★★★★☆ Lush. Gorgeous. Asian fairy tales. Go forth and read it.
JULY
Learn About Loss (Ghosts of the Shadow Market, #4) by Cassandra Clare & Kelly Link ✔ ★★☆☆☆ This was slightly more interesting than staring than staring at the ceiling.
The Cheerleaders by Kara Thomas ✔ ★★★☆☆ (3.5) This was solid, but also simultaneously forgettable, if you know what I mean?
AUGUST
Catwoman: Soulstealer (DC Icons, #3) by Sarah J. Maas ❌ I think I've just given up on the DC Icons series and SJ Mess Maas at this point, and that's the tea. 🤷 (I feel all the Maas fans coming at me).
Fresh Ink edited by Lamar Giles ✔ ★★★★☆ A complete fresh breath of air. Definitely recommend!
A Deeper Love (Ghosts of the Shadow Market, #5) by Cassandra Clare and Maureen Johnson ✔  ★★☆☆☆ Thank you, next.
Our Stories, Our Voices edited by Amy Reed ✔ ★★★★☆ (4.25) Some of these stories really spoke to me on such a relative level, and this was overall a pretty solid anthology. Don't bother with Ellen Hopkins' piece, I didn't, and I didn't lose any sleep over it.
SEPTEMBER
Sadie by Courtney Summers ✔ ★★★★☆ This was brutal and painful, but the audiobook was phenomenal.
Two Dark Reigns (Three Dark Crowns, #3) by Kendare Blake ❌  I really need to pull myself together and read this.
The Wicked Ones (Ghosts of the Shadow Market, #6) by Cassandra Clare and Robin Wasserman ★★★★☆ ✔ Probably in my top 2 for the stories that I've read in this anthology so far.
Wildcard (Warcross, #2) by Marie Lu ✔ ★★★☆☆ Ugh so disappointed.
Pride by Ibi Zoboi ✔ ★★★★☆ Wish I'd read Pride and Prejudice first. But the cover though!! Absolute goals.
OCTOBER
The Lady's Guide to Petticoats and Piracy by Mackenzi Lee ✔ ★★★☆ (3.5) This was good, but nowhere near as good as the first one.
(Don't) Call Me Crazy edited by Kelly Jensen ❌ I haven't been able to get a copy of any sort so I have a legitimate reason why I haven't read this one. BUT I WANT TO.
The Land I Lost (Ghosts of the Shadow Market, #7) by Cassandra Clare and Sarah Rees Brennan ✔ ★★★★☆ MELISSA FUMERO (aka Amy Santiago or an icon) NARRATES THIS AUDIOBOOK. You're welcome.
What If It's Us by Becky Albertalli and Adam Silvera ✔ ★★★☆☆ I'm so sad about this, you guys have no idea.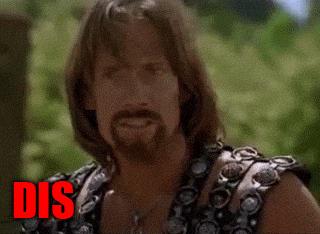 NOVEMBER
Kingdom of the Blazing Phoenix (Forest of a Thousand Lanterns, #2) by Julie C. Dao ✔ ★★★☆☆ A meh sequel to a solid first book.
Girls Made of Paper and Fire (Girls of Paper and Fire, #1) by Natasha Ngan ✔ ★★★☆ (4.5) I started and finished this on a school night and I couldn't put it down though.
Archenemies (Renegades, #2) by Marissa Meyer ✔ ★★★★☆ (4.25) This is how you write a good YA superhero novel.
Empress of All Seasons by Emiko Jean ❌ Oh my god, the shame is real.
DECEMBER
Queen of Air and Darkness (The Dark Artifices, #3) by Cassandra Clare ✔ This was a complete disappointment and I'm very salty about it. Review to come on the blog!
Dear Heartbreak edited by Heather Demetrios ❌ I'm going to try to read it in January.
How good are you at keeping up with your anticipated releases? What were your most anticipated releases of 2018, and were any of them in this post? Were your anticipated releases as enjoyable as you hoped, and any unpopular opinions about them? I would love to know.