It's Pride Month, and I only thought it would be appropriate to celebrate this by recommending LGBTQIAP+ books!
I've read a whole variety of books featuring LGBTQIAP+ characters (especially queer main characters) and/or by LGBTQIAP+ authors, and I had always planned on doing a Pride Month Rec Post this June. However, I decided to do it with a bit of a twist – I would recommend LGBTQIAP+, own voices (for the most part) books which had covers that corresponded to the rainbow (i.e having one book that was red, another which was blue and so forth). I thought this would make for a fun and a (hopefully) aesthetically pleasing post! I would love to do a post recommending some more amazing LGBTQIAP+ books that I would recommend for Pride Month, which I will most likely do for next Pride.
In selecting the books for this post, I have tried to select books with a wide range of identities and genres, and have tried to make this list as intersectional as possible! I know I have so many books that I have left off this list (because I'm only featuring 8 books in this post) so please let me know of more LGBTQIAP+ books that you should think would fit in here and/or that I should read it ASAP!
Oh also, the titles have direct links to their Goodreads!
But anyways – I hope you like this post and that it proves to be helpful (and aesthetically pleasing, of course).
Yes I'm a shallow human.
RED
I've read this book three times, and it remains one of my favourite books of all time. I know this book means a lot to quite a few people, as it helped them question their sexual orientation.
This is just so cute and wholesome and a wonderful story from one of my personal favourite authors of all time. It's one of the very few 5-stars that still holds up after various rereads.  The friendship group and the characters are some of my all-time faves, and any book that has a love of Oreos (yes, I'm that person) automatically has a place in my heart.
Representation: Gay MC, black gay Jewish LI, black Jewish male side character, black (bi–questioning) female side character, fat bisexual female side character. The fat and Jewish representation are own voices.
ORANGE
I love this book so so much and I have decided that this is now one of my all-time favourite books and you will never hear me shut up about it!! The queer rep is very minimal in this one, and I heard it is more of a pre-coming out story rather than a story of Darius questioning his sexuality/Darius living his life as an out teen. But I'm still going to put this in the list because I am trash for this book and the representation is still valid!
This book absolutely means the world to me and DESTROYED me, as my cold-hearted self cried SIX separate times while reading it. This is the only 5-star novel that I have read this year. It is a beautifully written story with so much heart and soul. As I said in my review, it is a beautiful novel about Persian culture, friendship, mental health and finding yourself in a world that rejects anything that it does not consider to be the norm. This is a criminally underrated book, and one of my life missions is to shove this in as many people's hands as I can.
I could literally write a full-on thesis about this book, and I'm going to stop myself here before I just turn into an absolute mess. The best way to experience this is to go in knowing as little as possible and just dive into it. That's exactly what I did, and look what happened.
Representation: Queer (sexuality is not labelled), biracial (Iranian-White), fat MC with clinical depression, major Persian side character, major side character with depression and various Iranian side characters.
YELLOW
Surprisingly, this was the category that was the most struggle for me to find a book, because I haven't read many LGBTQIAP+ books with yellow covers (which is so weird). Even though the cover still isn't mostly yellow, it still counts!
Even though I read this a few years ago, I remember this as being a super funny book with great characters, shenanigans and quality banter, while still tackling a myriad of important topics.  This is a book that will have you dying of laughter for a minute, and completely gutted in the feels the next.
I'm sure you've heard amazing things from everyone in the community – and for good reason, because this is a book that is worth the hype, in my opinion. Also, did I mention that young Tom Riddle from the Harry Potter movies narrates this audiobook? The accent (and his reading as a whole) was absolutely fantastic.
Representation: Bisexual MC (who is an abuse survivor), biracial gay epileptic LI, major ace/aro female side character. (Please let me know if there is any other representation that I did not include – I read this book 2 years ago and I can't find any other key representation on Goodreads, either).
GREEN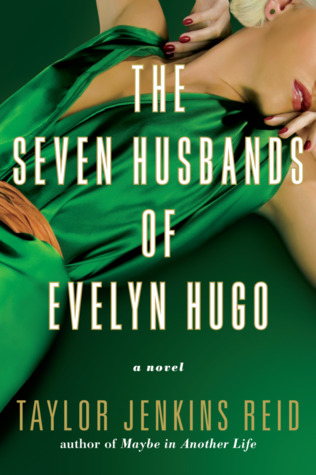 I think you all are tired of me (and the entire community) recommending this book left, right and center but I love it so much that I don't care!! (Also, I need to be consistent with my brand of Stanning and obsessing over this book).
This is a book following one of the most complex, ruthless and wonderful characters I have ever had the pleasure of reading about and her journey with the love of her life. It is one of the most complex, fascinating and nuanced books I have ever experienced, with lots of great representation.
The Seven Husbands of Evelyn Hugo isn't just a book, it's an experience. You will be sucked in by it and will come out of it wanting to watch all of Evelyn Hugo's films … and then realizing you can't. This is a book that I am physically incapable of not thinking about, because I love it so much.
This has a very good chance of being my favourite book of all-time, for now. BEYOND highly recommended.
Also, check out this Twitter account out if you've already read this/after you have read this. You're welcome.
Representation: Bisexual Cuban female MC, lesbian LI, gay side characters
BLUE
Summer Bird Blue by Akemi Dawn Bowman
Oh my gosh, this book is a work of art (inside and outside) and is so emotional and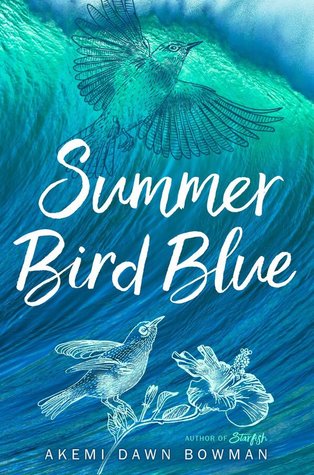 poignant and I love it with my whole heart and soul. While I did enjoy Starfish, Summer Bird Blue completely blew it out of the water (haha, get it?).
Even though a lot of people didn't love Rumi (which is kind of the point as she's written to be an unlikeable main character), I absolutely adored her as a character. I understood and empathized with her anger and pain, and I hurt deeply for her.
Rumi grappling with her grieving the loss of her sister and with her sexuality was such a wonderful experience to read. I loved pretty much all the characters in the book (except like two of them) and this is just such a wonderful story everyone should read. The setting of Hawaii also adds to the book in such a positive way 😍
Representation: Multiracial (Japanese, Hawaiian and White) aro-ace spectrum female MC, various multiracial side characters
PURPLE
Girls of Paper and Fire by Natasha Ngan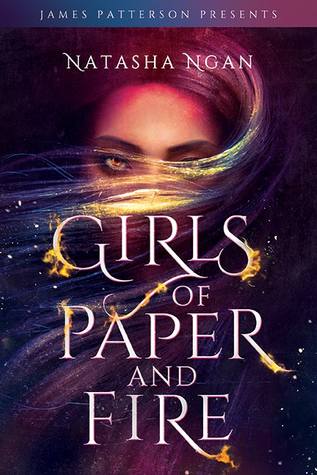 I KNOW I recycle the same books to recommend but I HAD to include this book because it is a perfect pick for Pride Month!
I love this book so much. Not only is it Malaysian and proud, it has Asian queer girls front and center. It is an angry feminist book about girls coming together after undergoing so much trauma and standing up against the patriarchy, which is the energy we need to maintain in 2019 (and forever tbh).
People love this so much for a reason. This is truly a special book with so much to offer and it's a book that is extremely difficult for me to forget.
Representation: queer Asian MC and LI, all-Asian cast
ADDED: WHITE!
You Asked For Perfect by Laura Silverman
Yes, I know the cover isn't completely white, but it is still a shade of white (and therefore
still counts). This is probably one of my favourite books of the year. It deals with academic pressure, perfection, and how colleges (and the education system as a whole, really) essentially expect students to be perfect. It was RELATABLE™ and I really emotionally connected with it, as I am an overachieving top student who really suffers from imposter syndrome. This also was so close to making me cry, because I just so deeply connected with how seen Ariel made me feel, and because I really have never read a novel like this before. (Also, I just wanted to add that it has a Brooklyn Nine-Nine reference, and I !!!) It is a deeply character-driven book,
Although academic pressure is the main theme of the book, You Asked For Perfect has an absolutely phenomenal depiction of familial relationships and a great side romantic relationship too. Yes, You Asked For Perfect is a book about perfection, but the book itself does not try to be – which is arguably the most beautiful thing about it.
Representation: Bisexual Jewish MC, Arabian Muslim queer LI, major brown (I'm not completely sure of her race) lesbian side character, various Jewish side characters
Some Great Lists/Content You Should Check Out:
Because I love boosting bloggers and their posts, I'm including a list of amazing Pride Month Recommendation posts written by bloggers I am beyond fortunate to call my friends that you all need to check out ASAP!
What are your favourite queer books?  Are any of your favourites on this list? What queer books would you recommend to me? I would love to know.
And once again, happy Pride everyone! Love you all ❤️