Two facts about me as a reader: I read a lot of books every month (I'd say I read an average of 10-12 books each month), and I am very bad at regularly writing reviews, let alone in a timely manner.
This is becoming even more apparent when I'm writing my monthly wrap ups, and I often don't have much space to go into good detail about the books I read.
When I saw the Recently Read feature go around the blogosphere, I knew it was the perfect opportunity to go into further depth into the books I read while actually publishing some semblance of reviews (while also looking like a good book blogger).
I'll try and publish two of these per month, the first one mid-way through the month (which serves as a mid-month wrap up) and one just before/after I publish my monthly wrap ups (to wrap up the second half of the month).
Since I read 7 books and I am physically incapable of not rambling, let's just get into it, shall we?
Fantastic Beasts and Where to Find Them by Newt Scamander (J.K Rowling) ★★★★☆ (3.5)

Synopsis:

An approved textbook at Hogwarts School of Witchcraft and Wizardry since publication, Newt Scamander's masterpiece has entertained wizarding families through the generations. Fantastic Beasts and Where to Find Them is an indispensable introduction to the magical beasts of the Wizarding World. Scamander's years of travel and research have created a tome of unparalleled importance. Some of the beasts will be familiar to readers of the Harry Potter books – the Hippogriff, the Basilisk, the Hungarian Horntail … Others will surprise even the most ardent amateur Magizoologist. This is an essential companion to the Harry Potter stories, and includes a new foreword from J.K. Rowling (writing as Newt Scamander) and six new beasts!
I decided to reread this via audio since it was narrated by the delightful Eddie Redmayne, and I needed an audiobook to help me fall asleep. This was a pretty quick and easy read, and I found the information pretty interesting. Honestly, I don't have much to say about this one, I'm rounding this up to a 4 because of the narration (I'm a sucker for British accents OKAY).
Kingsbane (Empirium, #2) by Claire Legrand ★★★★★

Synopsis (Spoilers for Furyborn):

In this sequel to the instant New York Times bestseller Furyborn, two queens, separated by a thousand years, connected by secrets and lies, must continue their fight amid deadly plots and unthinkable betrayals that will test their strength—and their hearts.

Rielle Dardenne has been anointed Sun Queen, but her trials are far from over. The Gate keeping the angels at bay is falling. To repair it, Rielle must collect the seven hidden castings of the saints. Meanwhile, to help her prince and love Audric protect Celdaria, Rielle must spy on the angel Corien—but his promises of freedom and power may prove too tempting to resist.

Centuries later, Eliana Ferracora grapples with her new reality: She is the Sun Queen, humanity's long-awaited savior. But fear of corruption—fear of becoming another Rielle—keeps Eliana's power dangerous and unpredictable. Hunted by all, racing against time to save her dying friend Navi, Eliana must decide how to wear a crown she never wanted—by embracing her mother's power, or rejecting it forever.
I know that the Empirium series has seen its share of controversy, but I personally find it so so good. This was such a fantastic sequel, and did exactly what a sequel should do, expanding the world, setting up an evil cliffhanger (I'm very mad about this), and setting up for an epic showdown in the third book. For the most part, the plot was phenomenal and kept me so interested and invested. There were so many twists that had me screeching for days and screaming through Twitter DMs (I'm still not over it, four days later).
This was also a really interesting read because it shifted my opinions drastically on so many things in the series, especially my thoughts on the characters, the world and so many things in general, and I enjoyed Eliana's perspective so much more here. I was so frustrated with Rielle and her decisions, and they gradually crushed me. However, I feel this was a bit too character-driven for me, and I felt that some sub-plots were too rushed and weren't given the time they deserved, while others were just unnecessary.
It was so hard to put down, a phenomenal sequel, and I need to do a Furyborn and Kingsbane reread before the third book comes out. Also, I need that third book now, please and thank you.
I have to scream about some spoilers because I'm not okay (highlight to see!)
First, I can't believe the Audric and Rielle ship sunk the way it did (I'm DEVASTATED). Also, what was up with Simon? The twists were brilliantly evil. I'm not okay 😭
The Selection by Kiera Cass (audio reread) ★★★★☆ (3.75)

Synopsis:

Fall in love—from the very beginning. Discover the first book in the captivating, #1 New York Times bestselling Selection series.

Prepare to be swept into a world of breathless fairy-tale romance, swoonworthy characters, glittering gowns, and fierce intrigue perfect for readers who loved Divergent, Delirium, or The Wrath & the Dawn.

For thirty-five girls, the Selection is the chance of a lifetime. The opportunity to escape a rigid caste system, live in a palace, and compete for the heart of gorgeous Prince Maxon. But for America Singer, being Selected is a nightmare. It means turning her back on her secret love with Aspen, who is a caste below her, and competing for a crown she doesn't want.

Then America meets Prince Maxon—and realizes that the life she's always dreamed of may not compare to a future she never imagined.

Don't miss the next books in Kiera Cass's popular series, including The Elite, The One, The Heir, and The Crown.
I reread this via audio since I was looking for a fluffy sci-fi esque read, and this fit the bill perfectly, and I actually really enjoyed it.
This book isn't meant to have literary value – it's meant to be entertaining and swoony, and I found it so interesting to see how the relationship progressed. The audiobook narrator was fine and wasn't anything super special, honestly. I still love the concept, the characters were fine, and the next two books are gonna be interesting to re-visit.
Two Dark Reigns by Kendare Blake ★★★☆☆

Synopsis (Spoilers for Three Dark Crowns AND One Dark Throne)

#1 New York Times bestselling author Kendare Blake returns with the highly anticipated third book in the Three Dark Crowns series! And while Arsinoe, Mirabella, and Katharine all have their own scores to settle, they aren't the only queens stirring things up on Fennbirn Island.

Queen Katharine has waited her entire life to wear the crown. But now that she finally has it, the murmurs of dissent grow louder by the day. There's also the alarming issue of whether or not her sisters are actually dead—or if they're waiting in the wings to usurp the throne.

Mirabella and Arsinoe are alive, but in hiding on the mainland and dealing with a nightmare of their own: being visited repeatedly by a specter they think might be the fabled Blue Queen. Though she says nothing, her rotting, bony finger pointing out to sea is clear enough: return to Fennbirn.

Jules, too, is in a strange place—in disguise. And her only confidants, a war-gifted girl named Emilia and her oracle friend Mathilde, are urging her to take on a role she can't imagine filling: a legion-cursed queen who will lead a rebel army to Katharine's doorstep.

This is an uprising that the mysterious Blue Queen may have more to do with than anyone could have guessed—or expected.
I knew that this was going to be a slower installment going in, but it really could be a slog at times. I still am invested in the world and the plot, and the characters are fascinating. I am absolutely in love with the world-building, and it is brilliant.
It is well written, but the biggest downfalls of the book was that it felt too much like filler and could've been cut down considerably while maintaining the same plot and having better pacing. This felt more like Three Dark Crowns (a filler used for set-up) rather than One Dark Throne (fast paved action plot).
Also … what was that ending? It is honestly very abrupt and kind of confusing? I had to reread it to understand what was going on.
I hope Five Dark Fates lives up to the greatness of One Dark Throne, and if you ask me? This should've been kept as a duology.

The Elite by Kiera Cass (audio reread) ★★★★☆ (3.75)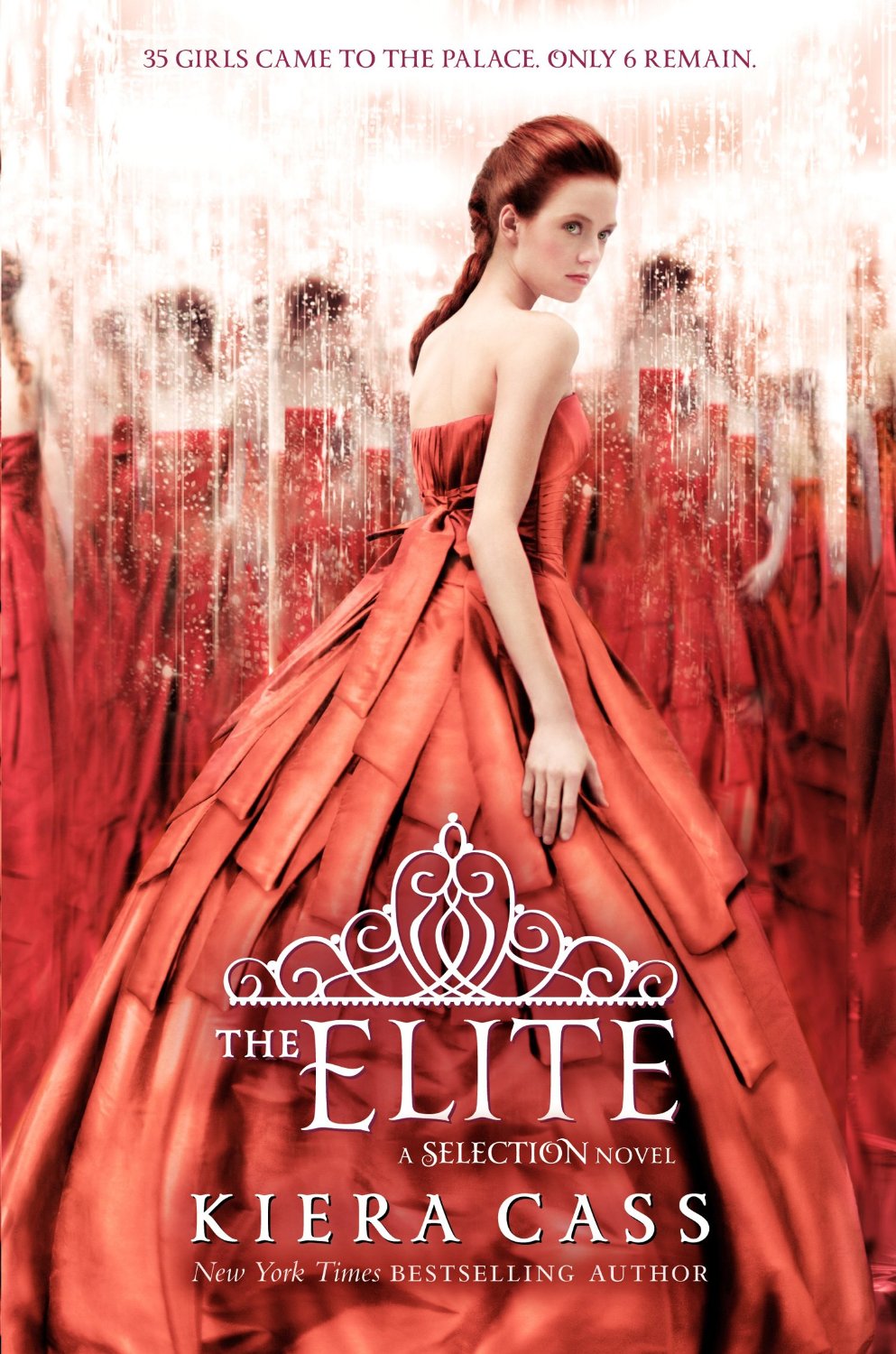 Synopsis (Spoilers for the Selection):

The Selection began with thirty-five girls.
Now with the group narrowed down to the six Elite, the competition to win Prince Maxon's heart is fiercer than ever—and America is still struggling to decide where her heart truly lies. Is it with Maxon, who could make her life a fairy tale? Or with her first love, Aspen?

America is desperate for more time. But the rest of the Elite know exactly what they want—and America's chance to choose is about to slip away.
Even though this is most likely the weakest in the series (hello second book syndrome), I still had such a fun time reading this! This series is so bingeable and like the Selection, I audiobook-ed this one. I still love the romance, and even though I knew how the events were going to unfold, it was really difficult to me to hit the pause button on the audiobook. I just had way too much fun with this one, and I was so excited to continue on after I finished this one. Also, I am completely and utterly OBSESSED with the dresses on the covers. Aren't they art?

The One by Kiera Cass (audio reread) ★★★★☆
Synopsis (has mild spoilers for the Selection and the Elite):

The time has come for one winner to be crowned.

When she was chosen to compete in the Selection, America never dreamed she would find herself anywhere close to the crown—or to Prince Maxon's heart. But as the end of the competition approaches, and the threats outside the palace walls grow more vicious, America realizes just how much she stands to lose—and how hard she'll have to fight for the future she wants.
Okay this is probably my favourite one in the trilogy! I didn't love it as much as I did before, but I still had the most fun with it. Maxon and America are truly one of my baby reader OTPs (like when I was a baby reader), and I will always have a soft spot for them because of it. I loved some of the character arcs in the series and their humanization. I should probably check the Bachelor out soon, hm?

Maybe This Time by Kasie West ★★★★☆ (4.5)
Synopsis:

One year. Nine events. Nine chances to . . . fall in love?

Weddings. Funerals. Barbecues. New Year's Eve parties. Name the occasion, and Sophie Evans will be there. Well, she has to be there. Sophie works for the local florist, so she can be found at every big event in her small hometown, arranging bouquets and managing family dramas.

Enter Andrew Hart. The son of the fancy new chef in town, Andrew is suddenly required to attend all the same events as Sophie. Entitled, arrogant, preppy Andrew. Sophie just wants to get her job done and finish up her sketches so she can apply to design school. But every time she turns around, there is Andrew, getting in her way and making her life more complicated. Until one day she wonders if maybe complicated isn't so bad after all . . .

Told over the course of one year and following Sophie from event to event, this delightful novel from master of romantic comedy Kasie West shows how love can blossom in unexpected places.
This was such a cute read, and was the perfect read to begin easing me out of my reading funk! I binged this (I stayed up until 7am, are y'all proud of me), and this was another win for West, in my opinion. The plot structure (falling in love over the course of a year, during nine events) worked SO well for me and was absolute perfection. Though the characters weren't exactly my favourite, and did have the tendency to get on my nerves, I did warm up to them enough by the end. I loved how Sophie's ambition was presented and validated here, because ambition in girls is something that isn't valued enough by society (this coming from a highly ambitious girl). West knows how to write banter and romance, and it was seriously perfection here, which made this SUCH a pageturner. While I loved the main plot, I also adored the sub-plots, and found that it added a lot of substance to the novel, and the same could be said about the relationships as a whole here. They are nuanced, fleshed out and pretty realistic. The small town aspect was also so good and I enjoyed the setting so much? Also, Gunnar's relationships with everyone (Sophie's little brother) was so good.
---
What are some books you recently read, and what do you think of them? Have you read any of the books here, and do you agree (or disagree) with any of my opinions? Why/why not? I'd love to know.