Welcome to the very last wrap up post for 2019!
Which is, annoyingly so, more than a month late, and even missed my regular uploading time!
This is, uh, going up at midnight, and it's not a good look.
Today, I'm answering a good amount of the questions from the End of Year Bookish Survey! This is my second time doing this survey (having done this survey in 2018) and had lots of fun, so I figured this would be a good way to properly say goodbye to my 2019 reading year. I wrote a quick little summary in my 2019 recap post, so if you wanna see a quick overview of my reading year, it's there for you.
Also, I'm so sorry I disappeared from the blog (again). It's just that life got busy, I got distracted by life things in general, and yeah. Life just really be like that sometimes
This post took FOREVER to create and finish (like hours upon hours), so I'm gonna just end this here and take a huge nap because BOY do I need it.
2019 QUICK READING STATS
Number Of Books You Read: 142 (this will never happen ever again)
Number of Re-Reads: 32
Genre You Read The Most From: Contemporary

BEST BOOK(S) YOU READ IN 2019?
I've already written a whole post on this, but here are the titles in their full glory.
I mean, I can't decide the order of them, but obviously my number one favourite is Darius the Great Is Not Okay.
Sticking to my brand!!

HONORABLE MENTIONS

MOST DISAPPOINTING READS OF THE YEAR
Rebel by Marie Lu – Marie Lu is one of my favourite authors, and I absolutely LOVE everything she does. While I was a little apprehensive about the necessity of this book, I was so excited for it after co-hosting a readalong of the original Legend trilogy. I had a hard time with connecting with the story, the perspectives (where was June's point of view?) and didn't feel like it was needed. On the bright side – that cover!
Fake It Til You Break It by Jenn P. Nguyen – This was among my top three anticipated releases of the year, and it sounded like everything I've ever wanted. Fake dating rom-com … with Asian characters? But the writing was kind of juvenile, and again, a hard time connecting with the characters. Also, grey area cheating
The Gilded Wolves by Roshani Chokshi – This was a book I did DNF, but this seriously sounded so great. A heist story set in 19th century Paris, with super diverse characters and lots of great puzzles? But it was just too convoluted for my brain to keep up with, and I had to put it down in the end.
King of Scars by Leigh Bardugo – I do know a lot of people are in the same boat as me, and I'm so sad I didn't love this book. Nikolai was my favourite character from the original Grisha trilogy (and the saving grace of it, frankly) and this book sounded so promising. It just dragged and I can't remember much, except it was hard to click with? Which was tragic.

MOST SURPRISING BOOKS
The Royals series by Rachel Hawkins – I picked this series up because I had heard wonderful things about Her Royal Highness (the second book in this series) and I absolutely fell in love with it. It was so fun, cute and just left me absolutely smiling.
The Best Lies by Sarah Lyu – This!! Book!! Is so criminally!! Underrated!! it's insane. This was such a hard-hitting, intense read with such heartbreakingly human characters and was so perfectly constructed I genuinely cannot deal. Reminds me – I want to do a reread of it soon. Because it was that good.

BOOK YOU "PUSHED" THE MOST PEOPLE TO READ (AND THEY DID)?
I am nothing, if not loyal, to my brand.
me, pretending to be surprised that I am re-using Darius for half of my answers on this post

BEST SERIES YOU STARTED IN 2019? BEST SEQUEL OF 2019? BEST SERIES ENDER OF 2019?

If I'm being honest, series were kind of a bust in 2019? Don't get me wrong, I found some great series starters and sequels, but stand alones were so much more of a hit for me this year. And the new series enders I read were disappointing, so yeah. Not talking about them.
My favourite series starter of 2019 was again, probably American Royals. It was just SO much fun and so entertaining? It wasn't the most educational, meaningful read ever, but it had me so enamoured with the plot, characters and the tangled relationships that I'm just trash for it now, okay. Cannot wait for the sequel.
And not to repeat books but Kingsbane!! Was a perfect sequel. I liked it more than Furyborn (which I thought wasn't going to happen because of the plot) but while this was painful to read at times, I found it really hard to put down, and I love how feminist but also real and raw it is, and the character arcs. Damn.
Claire Legrand really did THAT.

MOST ACTION PACKED/THRILLING/UNPUTDOWNABLE BOOK OF THE YEAR?
I binged Imagine Us Happy and Maybe This Time in one sitting/day (I started Maybe This Time at 2 AM and finished at like 5 to 6 AM. Not the most healthy reading experience, but it was fun). And American Royals is over-the-top, excessive drama crammed into one book, so like … you know.

 BOOK YOU READ IN 2019 THAT YOU WOULD BE MOST LIKELY TO RE-READ NEXT YEAR?
These are all books that I loved and just hit so different. I just want to re-experience the experiences I had with them, and just enjoy them. Because they were great.

FAVOURITE COVERS OF 2019
2019 was literally jam packed with so many beautiful covers!! And that is obvious.
Can we just ADMIRE these works of art for a second? Okay? Okay.

MOST MEMORABLE CHARACTER OF 2019

I know you all are SICK of me re-using this over and over again, but I gotta be honest, you know? Darius and everything about him just hit on a whole new level and I related and connected to him SO deeply. I have rarely connected with any character that deeply in literature before.
(Replace the word 'tweet' with Darius and her characterisation, and you've got my experience of Darius summed up in one meme.)

MOST THOUGHT-PROVOKING/LIFE-CHANGING BOOKS
I actually read a bunch of hard-hitting contemporaries this year, because I just love them and them breaking my heart, I guess.
Darius the Great Is Not Okay by Adib Khorram – For the sake of everyone's sanity, we are NOT going through this again.
Anger Is Not A Gift by Mark Oshiro – This was so important and powerful and gut-wrenching, and it makes me sad that it isn't more read across the community. This is literally one of the most diverse books I have ever read, and it is just fantastic and so, so memorable. Please go in being aware of the various triggers, but if you can handle the content, I recommend this with my whole heart and soul. I truly believe that this should be read in schools, especially schools in America. Mark Oshiro just took my heart and crushed it, and there were so many occasions where I was so close to just sobbing and tearing up. This is absolutely FANTASTIC.
Permanent Record by Mary H.K Choi – My first Mary H.K Choi!! This has me wanting to check out Emergency Contact and her future works, because this was a great read. The discussions of the college debts that eighteen year olds have to deal with and how the whole issue with college is handled hit me deep and really had me thinking, because I'm looking to study in the U.S for fall next year, so yeah. It hit different.

BOOK THAT SHOCKED YOU THE MOST

<big>Confessions by Kanae Minato – This was hands down the darkest book I read this year, if not, one of the darkest books I've EVER read. (Maybe even the darkest?) I haven't talked much about it, but this was gritty and nasty and wow. A lot. That beginning sequence had me absolutely reeling when I listened to it (fun story – I was in class when I was listening to it) and it's still got me so psychologically messed up. It's such a messed up book, but it is fantastically pulled off. Oh my god.
You Must Not Miss by Katrina Leno – Another really dark book! This was my first Katrina Leno book, and if this is any indication, I really should try her other books, because her writing style just clicked so well with me. I loved how it teetered between reality and fantasy, and the ending. I still am shook.
His Hideous Heart edited by Dahlia Adler – This is literally a short story anthology about Poe, so like … how can it not be dark? It is the PERFECT read for the spooky season, and like some of the original tales. Like, I cannot even. (The retellings and the original stories of the Cask of Armadillo and the Tell-Tale Heart? Damn).

BEST RECOMMENDED BOOKS
Like, all my best books of the year? Wow, we just love them so much ❤
Darius the Great Is Not Okay by Adib Khorram – Recommended by the wonderful May! (Thank you so much for this recommendation I love you forever for it)
Summer Bird Blue by Akemi Dawn Bowman Another May recommendation? And maybe from Jutoo? If I'm not wrong? (Don't quote me on it but either way. I get to boost them so!)
Kingsbane by Claire Legrand This could technically be a carry over recommendation from the #1 Empirium Trilogy fan, Cailin! (Cailin, if you see this, I miss you with my whole heart and soul <3)
<big>Love from A to Z by S.K Ali – Got this indirectly from Chaima @ Run Away With Dream Thieves!
Hungry Hearts edited by Elsie Chapman and Caroline Tung Richmond –  CW's review just sold me on it, and thank goodness it did, because this is an absolute masterpiece.
You Asked For Perfect by Laura Silverman – I think it was Elise's review that got me initially interested in this? And the pure relatability of it. No choice but to stan,
Imagine Us Happy by Jennifer Yu – I read this primarily because of Elise's stunning review of this, and I can't stop thinking about it.
Anger Is A Gift by Mark Oshiro – I think this was a recommendation from May (we're just the number 1 May fan here) and Cece from Problems Of A Book Nerd on YouTube?

BEST DEBUTS READ

BEST WORLD BUILDING OF THE YEAR?
Something really special about these two books is that they're both Asian-inspired! Spin the Dawn's world was just so exquisite and gorgeous and so layered and I was absolutely in love with it. Ikhara (the world of the Girls of Paper and Fire series) is particularly near and dear to my heart, because it's Malaysian-inspired, which we gotta stan.

BOOKS THAT MADE YOU SMILE/WERE THE MOST FUN TO READ?
Red, White and Royal Blue by Casey McQuiston – Literally everyone and their mothers have been going on about this book, so you get the idea. The characters and their dynamics and their banter was just so perfect. And the romance was so heartwarming, and this was just tons of fun.
10 Blind Dates by Ashley Elston – A Christmas story about 10 blind dates involving a huge Italian family was set up to be tons of fun, and it was! The banter and the dynamics were A+ and had me straight up laughing and had me grinning from ear to ear.
If I'm Being Honest by Emily Wibberley and Austin Siegemund-Broka – Wibbroka books are always the most FUN to read, and this was no different. Everything about Wibbroka books are amazing, and they have me flying through them and dying for more by the end of them.

BOOK THAT MADE YOU CRY / NEARLY CRY IN 2019?
Darius the Great Is Not Okay by Adib Khorram – To keep it short for y'all: emotional connection with Darius. The family dynamics. The topics. Deeply emotionally attached me = crying me. This is the only book I was full-on crying for. Never going to forget crying on the train and at home with my sister staring at me while reading this. A+ memories.
Summer Bird Blue by Akemi Dawn Bowman – I just connected with Rumi in such a profound way and felt so deeply for her. Her healing process and her portrayal of grief was so raw and painful to experience, and her anger and the relationships she built over the course of the book had me just almost crying. I just felt so profoundly for Rumi, even though I'm definitely an unpopular opinion here!
Anger Is A Gift by Mark Oshiro – This book HURT me so deeply. So many parts of it just felt like a direct sucker punch to me. The topics, the characterisation of the different characters, and just the plain reality and rawness of it had me so close to tears on so many occasions.

HIDDEN GEM OF THE YEAR
I already used this, but it was EXCELLENT and you all are sleeping on it. Massively. It's ridiculous.
In conclusion: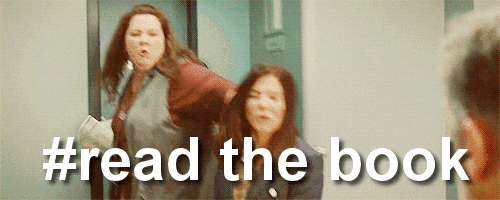 NEW FAVOURITE BOOK BLOG/BOOKSTAGRAM/YOUTUBE CHANNEL YOU DISCOVERED IN 2019?
While I haven't been as active and been as good as blog hopping as I would have liked in 2019, I have found a bunch of amazing blogs, thanks to the 3rd Bookish Blogging Awards hosted by the one and only May @ Forever and Everly (yes, I'm linking her even though you all probably already follow her, because if you haven't, there ya go). I found so many great blogs from the winners of it and also when creating my nominations post for it!

MOST POPULAR POST THIS YEAR ON THE BLOG
This is my most viewed post on my blog, ever, I think? I'm glad you all enjoyed this because I just love boosting my fellow teen book influencers. This does take a lot of time, but I do think it's time that is well-worth it! A part two is coming soon, as soon I pull myself together, find time and not procrastinate on it, I promise!! (Within the next two months?)

BEST MOMENT OF BOOKISH/BLOGGING LIFE IN 2019?
This is an easy one, I would think? Ya girl co-won the Best Small Book Blogger category (and was also nominated for the Best Teen Book Blogger category) for the 3rd Bookish Blogger Awards, and I'm still absolutely floored by it. I love you all so much, and I'm still unsure of how it happened. Regardless. Still beyond grateful and crying, a little ❤

MOST CHALLENGING THING ABOUT YOUR BLOGGING LIFE OR YOUR READING LIFE THIS YEAR?
While I took blogging more seriously and was more consistent with my content and just blogging things in general (I guess?), real life was getting busier and busier in 2019 and it did get hard to balance, at times. So, that meant a really big challenge for blogging this year in terms of consistent posting and scheduling my posts ahead of time (I ended up scheduling a lot of my posts hours before they're meant to go up or days/weeks later. Yikes).
Another thing I struggled with in blogging in 2019 was everything to do with comments and interaction! I used to be pretty good at keeping on top of comments, but things have been slipping in the last quarter of the year, and I let everything fall to the wayside? And don't even get me started on interaction. That has been … absolutely atrocious and I truly wish I could do better.
For reading, I would say my biggest struggle was finding books that I truly loved and could put on my all-time favourites list! I talked about this struggle extensively in this post, because while I did read a TON of books in 2019, I rated a lot of them 3 to 4 stars, and I really missed the feeling of falling head over heels for a book and completely obsessing over it.

FAVOURITE POSTS YOU WROTE IN 2019?
Naturally, because I am forgetful and indecisive my inner Libra is really being exposed here, I went through my monthly archives to remember the posts I generated, and I found myself being unable to pick one, so here's 12 of them! (I am so so sorry. Why am I like this).
---

What were the highlights (and the lowlights) of your reading (and if applicable, blogging) year? What hidden gems did you find in 2019? Did you find any favourite books? Any of your favourites (or least favourites) here too? Bloggers, what were your favourite posts of 2019? Also, please link me to some amazing blogs because I am woefully behind and want to fall in love with some new blogs ❤️