So if you didn't know, Percy Jackson is getting an adaptation.
And I, like the entire planet, am hyped about it!
While Percy Jackson was not my number one series as a child, it was still so critical in shaping me as a baby reader and just in my reading journey in general, so I thought this was fun to do, especially since both May @ Forever and Everly and Lily @ Sprinkles of Dreams tagged me in it. I love you both (and everyone needs to follow them now if they haven't already) ❤
Note: While I did not address this last week as I had scheduled my post before everything blew up, I wanted to take a second to address the current political turmoil and the Black Lives Matter movement across the world. As someone with the privilege of having a platform, it's so important for me to use it, so I've linked some organisations you can check out or donate to below:
RULES

Thank the person who tagged you and link to their post.
Link to the original creator: May @ Forever and Everly! Please note that she made the artwork/graphics, if using them. *If you care about graphics having a clear quality, make it big enough so that the dimensions are 1103 x 175!*
Match books with the given prompts.
Tag however many people as wanted!
Copy-paste the rules and list of prompts.
---
We all know that I am truly one of the most indecisive people alive, and when coupled with how traditionally picky I am with giving out 5-stars, this is an incredibly hard choice for me. But I guess I would have to go with The Poppy War by R.F Kuang? This was everything I ever wanted and I am completely obsessed with everything about it. I learnt so much about the Second Sino-Japanese war and the brutality of it, and I will never shut up about this book. Someone needs to make me pick up the sequel as soon as I can.
If I'm being honest, I'm so close to naming The Poppy War again, but in order to have
diverse answers, I'll refrain?
But I guess I'll go with The Seven Husbands of Evelyn Hugo? I know everybody and their mother LOVES this book, and I haven't talked about it in ages, despite it just being my brand at one point? I just love everything about it, especially the way Reid crafts not only Evelyn Hugo's character but balances the dual timeline aspect. I haven't reread in AGES, and I feel like June would be a pretty good excuse to reread it?
I know that this is a pretty new release, but I'm going to talk about Anna K for a second. While I know a bunch of my mutuals have read it, I really think it's enjoyable, poignant and fantastic.
It is such a treat to read and we love the representation and please! just read it!
Generally, I don't read books I think I'll hate, but I think I'll probably have to go with
Prince Charming for this one? I begrudgingly read this to read its spin-off, Her Royal Highness, because that sounded epic. While this is obviously not going to be the world's next literary masterpiece, I can't deny how much fun it was and what a quick read it is.
We love to see it!
Normally, I would probably choose something like Harry Potter, but due to the recent J.K Rowling scandal, I feel uncomfortable with giving that as an answer.
And since my brain is blanking so hard right now, I think I'm probably going to skip this question. and subsequently get annoyed when I remember a good answer for this.
I'm seriously blanking on books with sibling relationships right now, so I'm going to go with To All the Boys I've Loved Before! I know this is super popular, but the dynamic between Lara Jean and her sisters are the best and wow. We have to stan.
I knew as soon as I saw this prompt that I am 100% picking Girls of Paper and Fire for this one. It's just so beautiful, fast-paced and we love Malaysian-Chinese influenced fantasy in this house! I literally binged this from 10pm to 2am in one sitting, and it was such an ethereal experience that I will never forget. I … just have no words.
I'm going to use this opportunity to talk about another favourite of the year, which
is Chanel Miller's Know My Name. This book nearly made me sob multiple times, and Miller's writing is just so incredibly poignant and powerful. Her journey was heartbreaking, painful and she is one of my biggest inspirations. This book is deeply close to my heart, due to it inspiring me to write a whole post about her encouraging me to write about my experiences. Miller being half Chinese was also particularly meaningful. I can go on and on, but we'll leave it at that.
(Picture credit to Riveted Lit!)
For this, I'm going to have to pick the entire Shadowhunter Chronicles series? I am aware that this is cheating due to the sheer amount of books here, but ya girl has to be occupied by many books if she's stuck on an island. Because she has the attention span of a three year old. However, we are going to ignore that and pretend this counts as an entire book because why not 😎😎😎
I know I'm predictable like that, but my best bet for this would be The Dragon Republic by R.F Kuang! I have not had the best record with picking out 5-star predictions, but I'm just in love with this series. I'm currently reading this now and I am loving it, so good bet, I suppose?
Again, we are going to cheat and name multiple books because I am an indecisive Libra bean who's like that … oops …
But first, we are going to talk about Darius the Great Deserves Better! <small>it also deserves a better cover.</small>
We all know how much I ADORE Darius the Great Is Not Okay, and I just can't wait to be reunited with these characters along with my tears, comfort food and tissue boxes.
I seriously cannot wait to read Lightbringer by Claire Legrand because I am absolutely obsessed with this series and cannot wait to be broken to read this finale!
And finally, I am literally so hyped for A Sky Beyond the Storm. An Ember in the Ashes is another one of my favourite fantasy series and I've been waiting for 2+ years for the finale.
Also, Helene Aquilla can step on me and I'd say thank you. That is all.
I am genuinely surprised that I haven't included this as an answer yet since this book is basically my Brand at this point … and that is to no one's surprise Darius the Great Is Not Okay! I picked this up because May @ Forever and Everly (who created this tag) recommended it, and we all know how I feel about it. And so many of May's recommendations have come through for me, so she's basically my go-to for recommendations!
I know that Red, White and Royal Blue is a pretty common answer, but it's the one that
I had to go with here. It's just so funny and the dialogue is just perfect? It's not my favourite book in the world, but it's definitely one that I enjoyed immensely.
The amount of times this made me laugh is mad.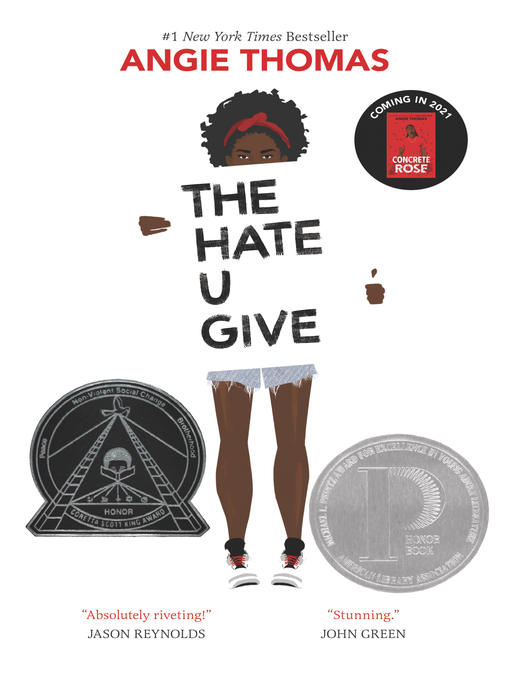 This is particularly timely, but I'm definitely going to have to go with The Hate U Give for this one! I've reread this book so, so many times and fallen even more in love with it each time, to the point that I'm talking about it in my personal statement? (Yeah).
I'm not saying anything that doesn't have to be said, but this book is absolute perfection, and I'll leave it at that.
I KNOW I said I was not going to repeat answers, but I really have no choice but to say
The Poppy War. I was just so engrossed and invested while reading it, but also simultaneously TERRIFIED because R.F Kuang has no mercy for the characters. Not to be a YA character and all that, but I was seriously holding my breath on and off for the last 20% of the book without knowing it. I am just absolutely in love and still devastated by that ending.
Maybe it's just because I reread this, but I'm going to go with Jane, Unlimited for this one. I will be the first to say that this book is ridiculously confusing, weird and complex, but I just had SO much fun reading this? I adored the choose-your-own-adventure aspect of the book and absolutely LOVE some of the characters. While I haven't read Rebecca in its entirety, hides face I noticed this did have quite a few parallels to that, which made me so excited because I did love Rebecca when I was reading it? I also think it will be tons of fun if I reread after having read Rebecca in its entirety.
Seriously, someone make me do it.
This makes me really sad to say this, but probably My Summer of Love and Misfortune
by Lindsay Wong? I am really upset because I got this as an e-arc on Netgalley, but I got through like 60% in three months and could not do it anymore because the main character was absolutely insufferable. So, that was mostly for her. Because everything else about the book was solid.
I'm going to have to go with Tweet Cute for this one? This is another 5-star that I haven't talked about very much here, but I absolutely love everything about this. I don't remember rooting for a romance as hard as I was for this one, but yeah. Also, New York City!! (This has me wanting to re-read it, can't lie).
---
Have you read Percy Jackson and the Olympians, and if so, who are your favourite characters? Any favourites from this list? And what do you think about the adaptation news?