I have a love for surveys, stats and question-type posts (as evidenced by my 100 Blogger Truths Tag.), so I decided to join in! This was created by Jamie @ The Perpetual Page Turner, so go ahead and check her 2018 post and link yours up!
2018 READING STATS
Number Of Books You Read: 111 books (as of 15th December 2018)
Number of Re-Reads: 11 (as of 15th December 2018)
Genre You Read The Most From: Contemporary (YA and adult)
1. Best Book You Read In 2018?
I know I'm a highly indecisive person, but my favorite book of the year, without a doubt, is The Seven Husbands of Evelyn Hugo. It was my last read of January and what a way to end the month and start the year. What distinguished it was that it was the only new 5-star that I actually reread within the year (two months later oops). I know everyone is hyping this up, but it's SO GOOD, you guys.
2. Book You Were Excited About & Thought You Were Going To Love More But Didn't?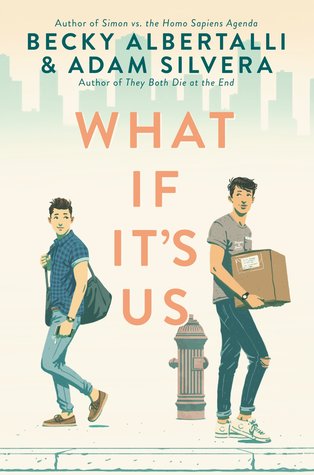 This list is sadly extremely extensive. These books got so much hype and I thought I was going to love them … and I just didn't.
My biggest disappointment was probably What If It's Us. I was so excited (because hello Becky Albertalli) and so many people I trust LOVED it. There were so many great fandoms to be included and it was going to be set in freaking New York City (I love). But it had SO LITTLE PLOT, and the romance felt very forced? And I also got spoiled for the ending, so sigh.
(Not-so) honorable mentions include:
THE CRUEL PRINCE by Holly Black (my 2nd biggest disappointment of the year. The hype got to me, please let me live all you Cruel Prince stans)
Truly Devious by Maureen Johnson
Wildcard by Marie Lu
How I Resist edited by Maureen Johnson (what is up with all these Maureen Johnson books)
The Cheerleaders by Kara Thomas (I was liking it so much and then it kinda flopped)
Hamilton and Peggy by L.M Elliott (This should've been great, but it was kind of dry)
Stalking Jack the Ripper by Kerri Maniscalco (Everyone loves it and I thought I would .. but I just didn't)
Stay Sweet by Siobhan Vivian (Ice cream, "feminist", YA contemporary)
Son of the Dawn by Cassandra Clare and Sarah Rees Brennan (a bore)
A Reaper at the Gates by Sabaa Tahir (I did like this, but it didn't suck me in the way the first two books did)
A Deeper Love by Cassandra Clare and Maureen Johnson (Y A W N)
American Street by Ibi Zoboi (stop with the girl hate)
 3. Most surprising (in a good way or bad way) book you read?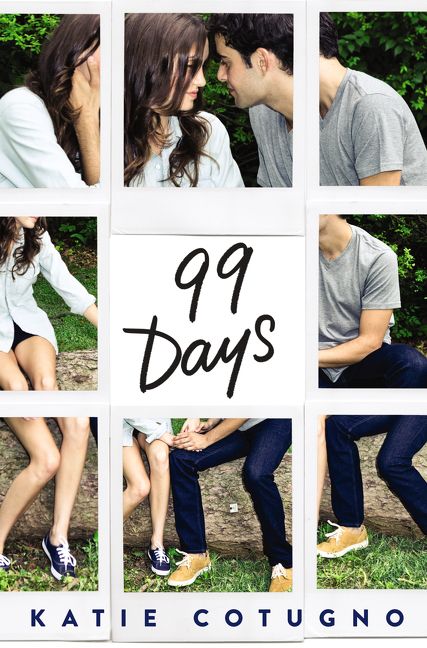 The best surprise of the year for me was 99 Days by Katie Cotugno. I only read this to read 9 Days and 9 Nights (because hello European travel). This book has so many mixed reviews and is highly controversial, but I really enjoyed it. The writing was just so good and though Molly is not the best person, she is still a fairly interesting perspective to read from.
 4. Book You "Pushed" The Most People To Read (And They Did)?

This is definitely more of a two-way tie between The Hate U Give and Simon vs. the Homo Sapiens Agenda. After reading them and loving them so much in 2017, I kept screaming about these two on the Internet and I recommended both highly to close friends of mine. They all really enjoyed (and one of them loved) Simon vs. the Homo Sapiens Agenda, and the one friend of mine that read the Hate U Give loved it with her whole heart and found it to be a masterpiece.
If you haven't read either (or both) of these books, do yourself a favor.
 5. Best series you started in 2018? Best Sequel of 2018? Best Series Ender of 2018?

My favorite series starter(s) this year is tied between Furyborn by Claire Legrand and Girls of Paper and Fire by Natasha Ngan. SO GOOD.
I didn't read many sequels this year, but the only one I five-starred was Beneath the Sugar Sky, so that's my default choice? So whimsical and such beautiful writing and so much diversity. We love.
Without a doubt, my favourite series ender is Leah on the Offbeat. I love Simon vs. the Homo Sapiens Agenda so much and it was nice to revisit Simon and the crew in senior year. It was just so wholesome, you guys.
 6. Favorite new author you discovered in 2018?
This has to be Taylor Jenkins Reid. First of all, she wrote The Seven Husbands of Evelyn Hugo. That is a good enough reason.
I also read all of her backlist, and her new novella this year. I just finished reading One True Loves, and all of them were great. I will (hopefully) make an author post about her before the release of Daisy Jones and the Six.
So excited.
7. Best book from a genre you don't typically read/was out of your comfort zone?
Definitely Brazen: Rebel Ladies Who Rock the World by Pénélope Bagieu! I don't really read graphic novels (since it's hard to find some up my alley), but this was so inclusive and so interesting to read. There were so many women I had never heard of, and this was just such a simultaneously great and informative read. Definitely recommend!
8. Most action-packed/thrilling/unputdownable book of the year?

I absolutely could NOT put Girls of Paper and Fire down. I started at 10pm at night and finished at 2am.
Yes, I regretted it (in part) the next day when I woke up for school, but also not really because wow.
Honorable Mentions to Furyborn by Claire Legrand, and Sadie by Courtney Summers (do listen to it on audio!)
 9. Book You Read In 2018 That You Would Be MOST Likely To Re-Read Next Year?
THE SEVEN HUSBANDS OF EVELYN HUGO.
I'm will be rereading it to prepare for the release of Daisy Jones and the Six anyway, and also because I love the characters oh-so-much.
10. Favorite cover of a book you read in 2018?
There is literally no acceptable answer other than Pride by Ibi Zoboi. I nearly screamed when I saw this because not only is this cover beautiful but the hardback and the endpapers themselves are just!!
11. Most memorable character of 2018?

You all are probably so over me putting The Seven Husbands of Evelyn Hugo for every question, but I could not resist for this one. Evelyn is such a flawed, realistic and iconic character. We stan a queen.
 12. Most beautifully written book read in 2018?
I'm obviously super indecisive, but there are two books that stood out to me and just written so so well. Those two books are Beneath the Sugar Sky by Seanan McGuire, Legendary by Stephanie Garber and the Language of Thorns by Leigh Bardugo. I five-starred two and gave the other 3.5 stars.
13. Most Thought-Provoking/ Life-Changing Book of 2018?
For me, this is probably American Panda by Gloria Chao. I just saw myself and related so hard to Mei, the main character, and there was one passage in particular that just spoke to me on such a deep level.
 14. Book you can't believe you waited UNTIL 2018 to finally read? 
I'm honestly shocked that I even finished the Raven Boys this year. And I cannot believe I took this long to read it! I didn't love it the way everyone else has, but I NEED to start and finish the Dream Thieves before the year is up. Hold me accountable, you guys.
Also the Language of Thorns. Another new five-star read! This book is so beautiful (the art, the writing, the retellings, just everything). I honestly still remember how shooketh I was after finishing When Water Sang Fire, like sis …
 15. Favorite Passage/Quote From A Book You Read In 2018?
Don't make me choose because honestly, I don't even know.
16.Shortest & Longest Book You Read In 2018?
I literally used my Goodreads Year in Books to figure this out! It's kinda fun, so check your own now if you have Goodreads and/or haven't used any yet.
My shortest book was Son of the Dawn by Cassandra Clare and Sarah Rees Brennan, and honestly, thank goodness it was, because all 48 pages were painful to read.
The longest book I read (it was a reread, and a great one at that) was Gemina by Amie Kaufman and Jay Kristoff. If my copy gets in this year and if I have time, it's going to Queen of Air and Darkness, because that is like 800-900 pages and man …..
 17. Book That Shocked You The Most

(Because of a plot twist, character death, left you hanging with your mouth wide open, etc.)
I'd say Girls of Paper and Fire, but for the sake of variance, probably The Language of Thorns (In particular When Water Sang Fire) because, my lord, or Crooked House, before I aka my dumb self accidentally spoiled myself for the end smh. But do read it – it's probably my second favorite Agatha Christie so far, after Murder on the Orient Express.
18. OTP OF THE YEAR (you will go down with this ship!)

(OTP = one true pairing if you aren't familiar)
I really can't think of any right now, so I would say probably Mei and Darren from American Panda! They're so cute and I stan Asian rom-coms. Please read this.
Also Lauren and Ryan from After I Do! Such a good TJR.
19. Favorite Non-Romantic Relationship Of The Year
I have four for this question, because I'm extra and highly indecisive. I'm sorry this post is so long!
First up, Melati's relationships with her mother and a few other characters in the Weight of Our Sky by Hanna Alkaf. So pure and developed!
Second, Charlie and her family relationships from Save the Date by Morgan Matson! (I FINALLY get to put this in, thank god, I wanted to find a way to put this in so badly). This is basically like a good old wedding rom-com in book form.
Third, the relationships that Claudia had with Iris and Zoe from Foolish Hearts by Emma Mills!! This was the first book I read this year, and it was phenomenal. I FINALLY get to put this here, and this book has fantastic female friendships.
Finally, I have Simon and crew from Leah on the Offbeat! This is totally cheating, but I LOVE THEM TOO MUCH MY PURE BABIES.
Oops.
20. Favorite Book You Read in 2018 From An Author You've Read Previously
So many of my new-five star reads were new-to-me-authors, which was great! For this question, this would be a tie between the Language of Thorns by Leigh Bardugo and Beneath the Sugar Sky by Seanan McGuire. Both of them had such beautiful writing and haven't really let me down yet.
21. Best Book You Read In 2018 That You Read Based SOLELY On A Recommendation From Somebody Else/Peer Pressure/Bookstagram, Etc.:
The perfect answer I have for this is the Seven Husbands of Evelyn Hugo by Taylor Jenkins Reid! I would be lying if I didn't put this down as my answer.
I know that I'm (and the whole internet) is super annoying with this, but it's the only valid answer for me.
Sorry not sorry.
22. Newest fictional crush from a book you read in 2018?
I don't really have any, so I'm gonna pass this one.
23. Best 2018 debut you read?
Without a doubt, it's Always Never Yours by Emily Wibberley and Austin Siegemund-Broka! I know Emily Wibberley has published books in the past, but this is their debut novel together, so this counts, ok.
24. Best Worldbuilding/Most Vivid Setting You Read This Year?
I would have to say Furyborn had some pretty solid world building. This was so atmospheric and so action-packed. I was fascinated by the world and the magic system. I hope we learn more about it in Kingsbane.
25. Book That Put A Smile On Your Face/Was The Most FUN To Read?
Though I clearly do favour one over the other, Always Never Yours and Save the Date was just incredibly fun!! Always Never Yours was such a wonderful Shakespeare rom-com that spoke to my inner Shakespeare-nerd.
Save the Date by Morgan Matson was kind of like Father of the Bride in book form. If you know me, you know that I really love rom-coms, so this made me so happy! Though it was stressful to see everything going wrong, it was really fun too!
26. Book That Made You Cry Or Nearly Cry in 2018?
I don't cry in books, movies are another story because I'm a mess. If I had to pick, I'd say I Have Lost My Way was probably the closest to doing so. It was just so poignant, harrowing, and with such strong character work.
27. Hidden Gem Of The Year?
That will be all.
But for real though, SO MANY PEOPLE ARE SLEEPING ON THIS.
I get so happy whenever someone said they read and enjoyed it.
Conclusion?

28. Book That Crushed Your Soul?
Definitely The Language of Thorns, because each word was absolute perfection. The conclusion of most of the stories always crushed my soul and left me with emotions.
Shall we bet on how much Queen of Air and Darkness is gonna crush me, when I actually read it? I'm scared though.
But I also can't wait, so.
29. Most Unique Book You Read In 2018?
Honestly, I have to say the Weight of Our Sky by Hanna Alkaf for this one. I have never seen ANYTHING like this at all, and it was so fresh and needed. It is simultaneously educational and incredibly harrowing.
30. Book That Made You The Most Mad (doesn't necessarily mean you didn't like it)?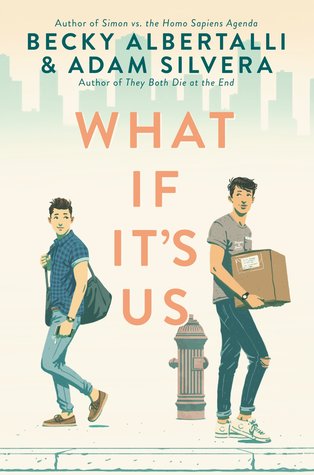 Hey, do you feel the rain?
It's my tears from not loving What If It's Us.
And I'm also so mad. Because I hyped this up so much, and it wasn't as great as I was expecting.
Sigh.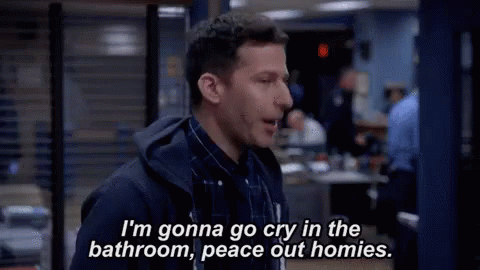 Look, I had to.
I'm your residential Brooklyn Nine-Nine stan and I use any excuse to squeeze the Nine-Nine in.
1. New favorite book blog/Bookstagram/Youtube channel you discovered in 2018?
Ah, so many! I just want to say I love you all, but these people are just some of my favourites, and please check their blogs out!
You're doing yourself a favour.
2. Favorite post you wrote in 2018?
I'm writing this post in mid-December, and here are my (likely) top 3 favourites for this year:
3. Favorite bookish related photo you took in 2018:?
I don't do bookish photography, but props to those who can! It's just so much work and photography isn't something that comes naturally to me. I don't think I'd be able to keep up.
4. Best bookish event that you participated in (author signings, festivals, virtual events,  etc.)?
Ugh, wish I could go to the USA or somewhere that actually had some great bookish events, but alas, we will have to wait.
But!! I did go to Waterstones and Foyles in London, so there was that.
5. Best moment of bookish/blogging life in 2018?
I launched my blog this year! (Obviously).
I also discovered Taylor Jenkins Reid, so that was great.
6. Most challenging thing about blogging or your reading life this year?
For blogging, my biggest challenge has been graphics and aesthetics. I'm honestly terrible at making online graphics and I'm not really happy with the aesthetic of my blog? And it also takes so much work, patience, and pain.
As for reading, my biggest challenge has been finding 5-star reads. I don't know whether it's because I'm very picky with what I give five stars to, or if that I put too much pressure on potential and current 5-star reads, but I've only had five new five star reads (excluding rereads). To be honest, that's really disappointing to me.
Even though I've found so many great books this year, finding favorites has been so hard, especially when compared to 2017, where I found SO MANY FAVOURITES. I think I'm going to make a post about that, but any tips would be much appreciated!!
7. Most Popular Post This Year On Your Blog (whether it be by comments or views)?
By views, my most popular post was my discussion of the Manon Ethnicity Drama, and I'm glad it got love! Not to brag, but I really am proud of it.
8. Post You Wished Got A Little More Love?
I guess I wish all of them got a little more love, but I wish my review of Girls of Paper and Fire, in particular, got a little more love. I really don't know what else to say about it, so I'm going to end it here before it gets awkward.
It already has sweetie.
9. Best bookish discover (book related sites, bookstores, etc.)?
For me, this is probably Foyles in London!! It has so much great YA selection, and I found some books that I wasn't able to find elsewhere, so go me.
10.  Did you complete any reading challenges or goals that you had set for yourself at the beginning of this year?
I did, actually. I'm going to be having a post going into depth about looking back at 2018 and checking on my goals, which is probably (?) going to be my last post of the year.
1. One Book You Didn't Get To In 2018 But Will Be Your Number 1 Priority in 2019?
If I don't get my copy and/or finish on time, my number one priority will be Queen of Air and Darkness. You can bet that I will read it as soon as I get my copy.
I also need to catch up on all my 2018 anticipated releases I haven't read yet (especially Archenemies by Marissa Meyer and Two Dark Reigns by Kendare Blake.
2. Book You Are Most Anticipating For 2019 (non-debut)?
I still need to make my 2019 Anticipated List, but boy I'm super excited to gather it!! I probably won't be publishing it, but from the top of my head, my most anticipated in 2019 thus far are On The Come Up by Angie Thomas, Chain of Gold by Cassandra Clare, Ninth House by Leigh Bardugo, Kingsbane by Claire Legrand, Girls of Paper and Fire #2 by Natasha Ngan, If I'm Being Honest by Emily Wibberley, and Daisy Jones and the Six by Taylor Jenkins Reid!
3. 2019 Debut You Are Most Anticipating?
Most of my anticipated list are books from authors I've really enjoyed, but I'm really excited for Again, But Better by Christine Riccio (aka PolandBananasBooks on Youtube), Four Dead Queens by Astrid Scholte (it sounds a bit like Three Dark Crowns but also SO GOOD), The Weight of Our Sky by Hanna Alkaf (Malaysian YA! I also got the opportunity to read this early and it was great!) and I Love You So Mochi by Sarah Kuhn!
 4. Series Ending/A Sequel You Are Most Anticipating in 2019?
Definitely Kingsbane and Girls of Paper and Fire #2! The synopsis for Kingsbane sounds amazing, and since I really loved Furyborn, I can't wait for this.
I'm a little worried that Girls of Paper and Fire #2 won't come out in 2019, but one can hope.
5. One Thing You Hope To Accomplish Or Do In Your Reading/Blogging Life In 2019?
For blogging: Get my aesthetic in order and to create something I'm happy with and proud of, for goodness sake.
Reading: Find some new favorites and to also write my Goodreads reviews in a timely manner!
6. A 2019 Release You've Already Read & Recommend To Everyone (if applicable):
I just had the opportunity to read the Weight of Our Sky by Hanna Alkaf and it was so great! I'm beyond honored that I got this opportunity, and thank you so much to Vicky @ Vicky Who Reads, the author, the publisher and everyone involved who made this possible! It's YA historical fiction about the Kuala Lumpur Riots in 1969.
You KNOW you wanna read this.
Please add it to your TBRs and read it when it comes out on February 5th, 2019!

How was your year in reading? What have you read on this list and what are your thoughts on them? Let me know down below.